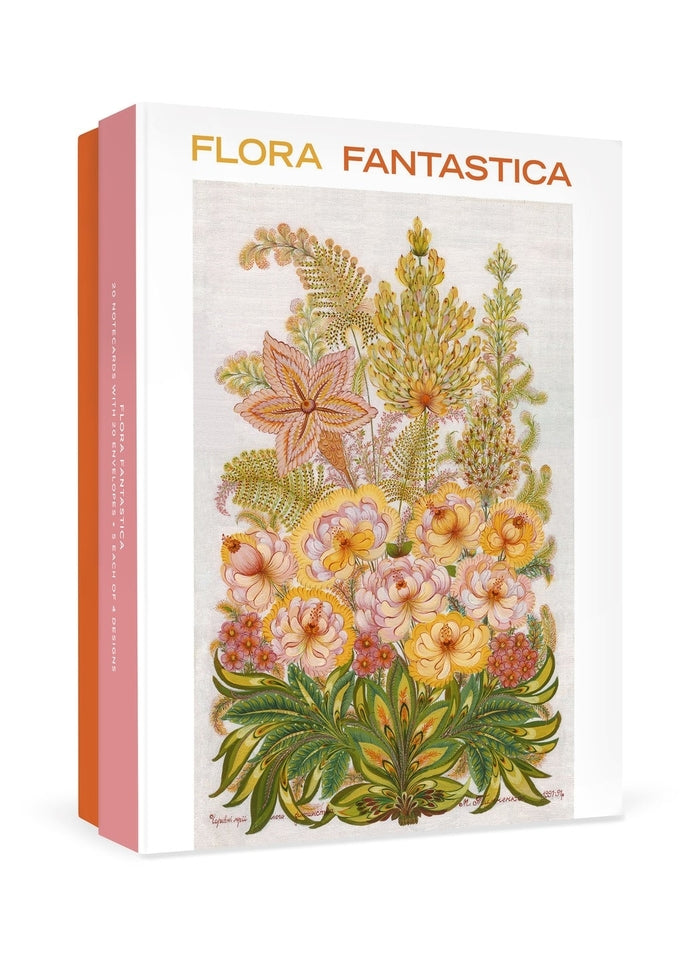 Flora Fantastica Boxed Notecards
A boxed collection of twenty beautiful blank art cards (127 x 178mm).  There are 5 each of 4 designs, supplied with soft white envelopes in a decorative box.  Printed on recycled paper using soy based inks.   Published by Pomegranate in the US. 
The art -
With meticulous attention to detail and thousands of strokes from cat-hair brushes, a dynasty of Ukrainian artists is drawing worldwide attention to Petrykivka painting, an exuberant Ukrainian folk art. Featured here are four stylized paintings by Marfa Tymchenko and Olena Skytsiuk. These works combine an extensive color range with more complex compositions than earlier examples of the art form. Their feathery flowers and surreal foliage have adorned everything from canvas and paper to clay, porcelain, and wood in decorative objects, dinnerware, fabric, posters, books, and murals. Ukrainian Petrykivka painting is coming into full bloom within the fine art world. Delight yourself and others with the swirling energy and eclectic color of the four paintings in this Flora Fantastica notecard set. 
Contains five each of the following images: 
Marfa Tymchenko, Magic Dreams of My Childhood, 1991
Marfa Tymchenko, Playful Birdies, 2000
Olena Skytsiuk, Joy, 2008
Olena Skytsiuk, Morning Sunny Wave, 2008–2010