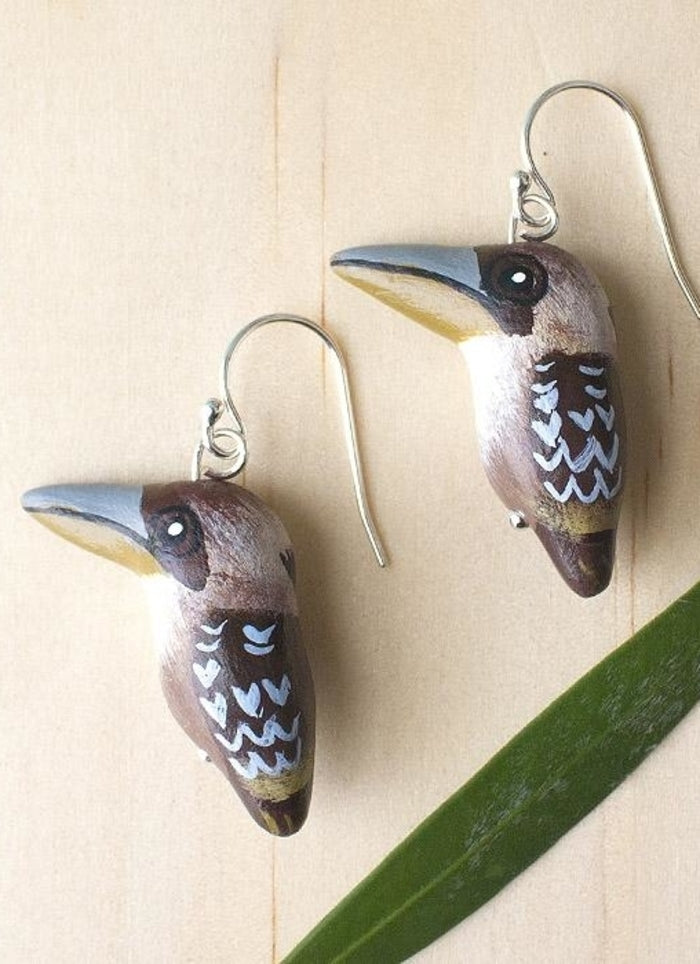 Songbird Earrings - Laughing Kookaburra
At Paper Parrot we love all things that celebrate Australian bird life and these bold little handcrafted Kookaburra earrings certainly do that! 
Total earring drop approx 35mm (the bird is approx 25mm from tail to beak)
Sterling silver earring hooks
Presented with a story card and fabric gift pouch
Each bird is individually handcrafted from locally sourced clay and then intricately hand painted.
Because of the completely hand-made nature of these items there will always be some variation between products, adding to their charm.

Ethically produced by a group of artisans based in Chiang Rai, Thailand.
About -
The iconic Kookaburra is the largest of Australia's native kingfisher varieties and is widely dispersed throughout eastern Australia. The name 'Kookaburra' is derived from the aboriginal Wiradjuri word 'Gugubarra'. However the kookaburra's famous call or "laugh" is actually a territorial warning to other birds.
Songbird is a crafts-based social enterprise established to raise awareness and support the conservation of Australia's threatened bird species and their native habitats, whilst creating sustainable and ethical job opportunities for Songbird's artisan makers.