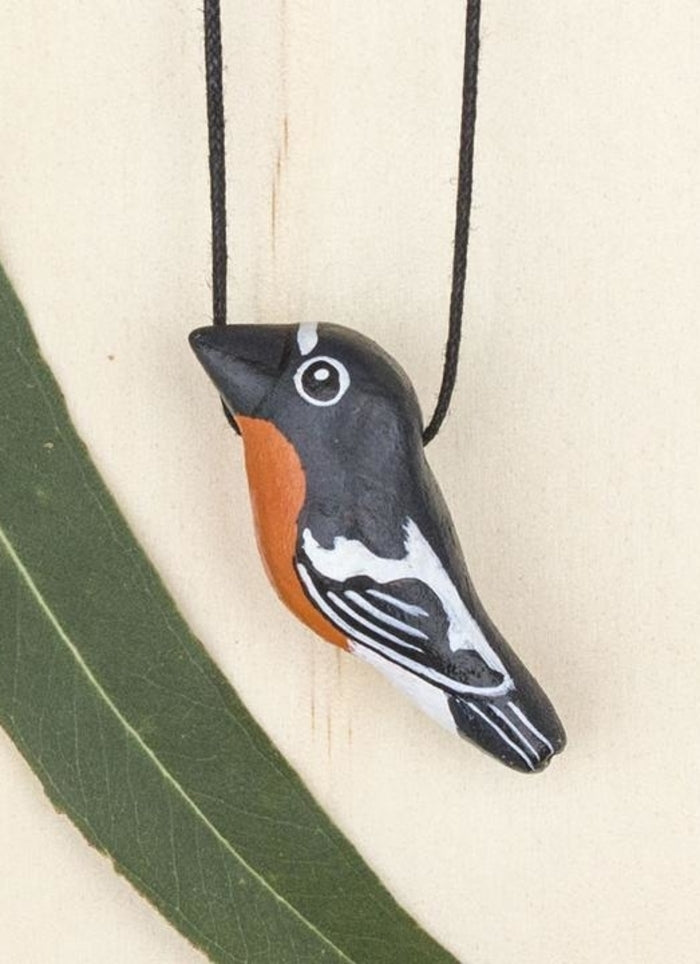 Songbird Whistle Necklace - Flame Robin
At Paper Parrot we love all things that celebrate Australian bird life and this colourful little handcrafted Flame Robin necklace certainly does that! Not only is it a necklace but it has a little whistle in its tail.
Each bird is approx 35mm from tail to beak
Adjustable cord 
Each bird features a single note whistle in its tail
Presented in a fabric pouch with story card
Each bird is individually handcrafted from locally sourced clay and then intricately hand painted.
Because of the completely hand-made nature of these items there will always be some variation between products, adding to their charm.

Ethically produced by a group of artisans based in Chiang Rai, Thailand.
About -
The Flame Robin's song is considered the most melodic and poetic of all the red robins. Its call is grouped in sets of three notes, sounding similar to the phrases "you-may-come, if-you-will, to-the-sea" or "you-are-not a-pretty-little-bird like-me".
Songbird is a crafts-based social enterprise established to raise awareness and support the conservation of Australia's threatened bird species and their native habitats, whilst creating sustainable and ethical job opportunities for Songbird's artisan makers.
Please Note - whistle necklaces are not intended for use as a toy and are not suitable for children under 4 years.