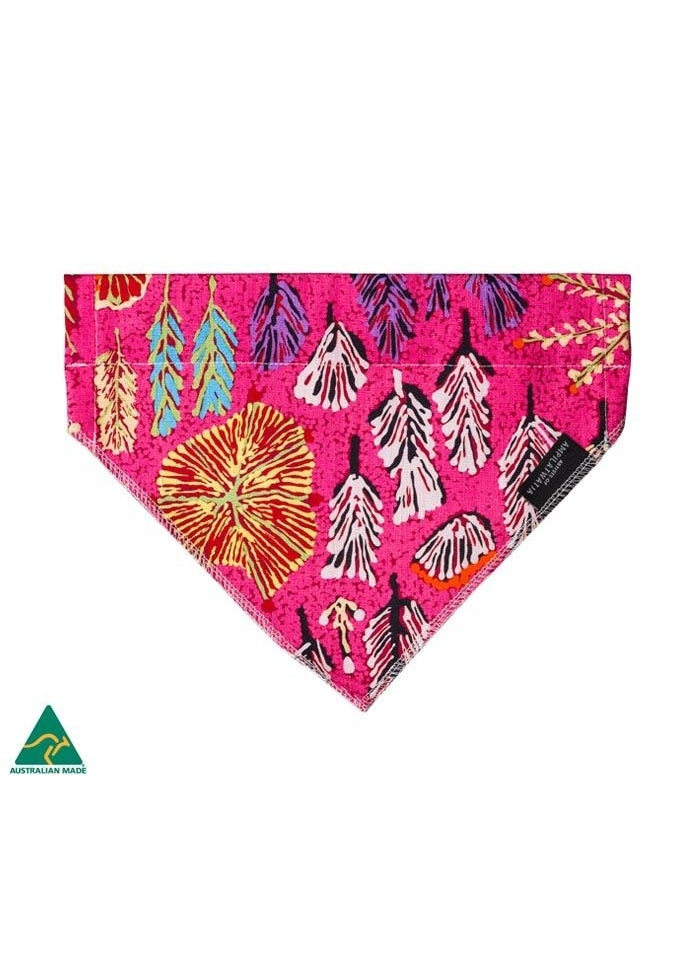 Aboriginal Art Pet Bandana - Betty Morton
If your pet wears a collar then they can wear one of our 100% Cotton Pet Bandanas. Made in Australia, pet bandanas feature incredible artworks reproduced under license from Artists of Ampilatwatja in the Northern Territory. These pet bandanas are worn on the collar rather than the neck so one size fits most!  The opening to thread the collar through is approx 4cm and length of bandana to thread onto the collar is approx 26.5cm.

Instructions:
Slip the collar all the way through the bandana opening. The bandana is now attached to the collar so you don't have to worry about it untying. 
Artwork by Betty Pula Morton from Artists of Ampilatwatja.
Ampilatwatja (pronounced um-bludder-witch) The Artists of Ampilatwatja community was established in 1999 near Alice Springs in the Northern Territory. The work produced by the artists is recognisably distinct from other Aboriginal artistic communities, due to the application of fine dots and the often bright, figurative depiction of the land.

Artwork/placement varies between bandana so each one is a little bit different and may vary from image shown.
Royalties from this product directly benefit the artists and their community.