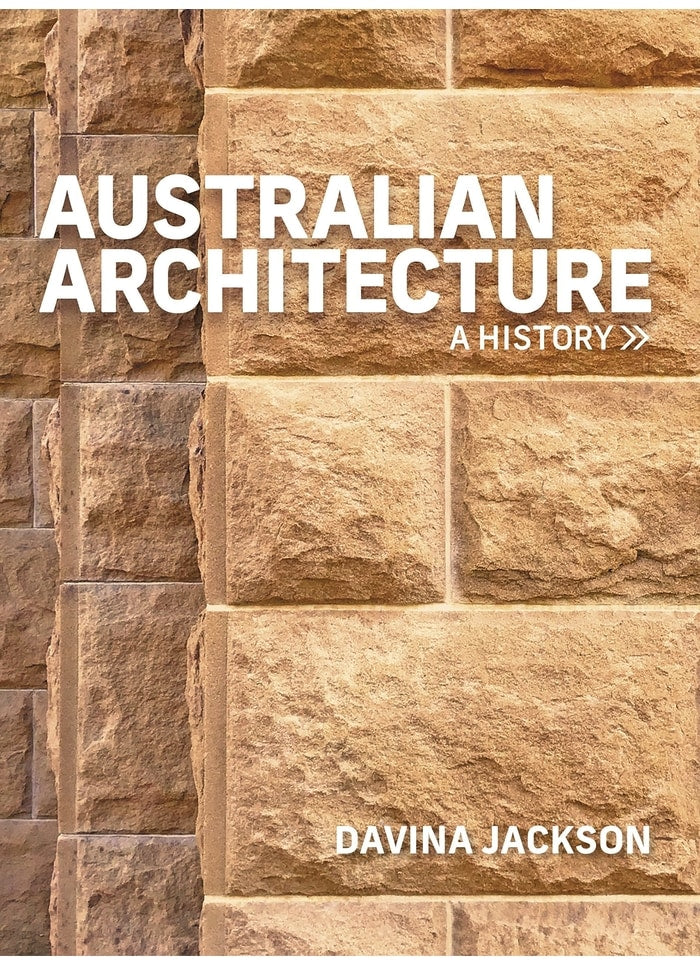 AUSTRALIAN ARCHITECTURE, A HISTORY by Davina Jackson (PB)
A comprehensive narrative history of building and design styles in Australia, from traditional Aboriginal gunyahs; to the local interpretations of northern hemisphere trends; to the sustainable, climate sensitive and high-tech constructions of the 21st century.

From First Nations gunyahs and First Fleet huts to 21st century eco-pavilions and skyscrapers, Davina Jackson surveys the evolution of architecture in Australia.

Dr Jackson explores how early colonial building designers like James Bloodworth, Francis Greenway and John Lee Archer interpreted classical European styles using local stone and timber. She examines how medieval and Renaissance monuments influenced leading architects during the 19th century, until the fresh winds of modernism and demands for a unique Australian style took over in the 20th century, with environmental challenges and technological innovations driving change in recent years.

Over two and a half centuries, our architects and builders have responded to the fierce Australian sun with verandas, porticos, colonnades, screens and Asian-inspired shade pavilions. Jackson explores these and other distinctive aspects of Australian design, why gold-boom architecture consistently impressed Victorian visitors, and the achievements of modern luminaries like Walter and Marion Griffin, Harry Seidler, Jorn Utzon, John Andrews, Glenn Murcutt and John Wardle.

Illustrated throughout, Australian Architecture traces our distinctive and internationally acclaimed domestic, commercial and institutional buildings, with overviews of the main design influences and key examples to visit. This is the essential guide for designers, architects, students and anyone interested in the story of Australia's unique and fascinating architecture.

About the Author

Dr Davina Jackson is an international writer of books, exhibitions and websites on architecture, technology and urban geography themes. She edited Architecture Australia from 1992 to 2000, and was a founder of annual city light festivals in Sydney and Singapore. After a multi-disciplinary design professorship at the University of New South Wales, she has guest-lectured at MIT, Cambridge, TU Munich and other universities in America, Europe and Asia. Her publications earned a PhD from the University of Kent in 2019 and fellowships of the Royal Geographical Society, the Royal Society of Arts and the Royal Society of New South Wales.
Industry Reviews
'Australian Architecture is not just a comprehensive architectural history. It is a social history of Australia and how our buildings shaped our lives.' - Sydney Arts Guide


'Will enlighten and engage the reader, and best of all, it will open the door to our world of architecture - where we have been, how we have changed and what has been achieved.' - Indesignlive
ISBN 9781760878399
Davina Jackson | Allen & Unwin | February 2022 | Paperback | 368 pages | 23.0 x 17.0cm | 900g