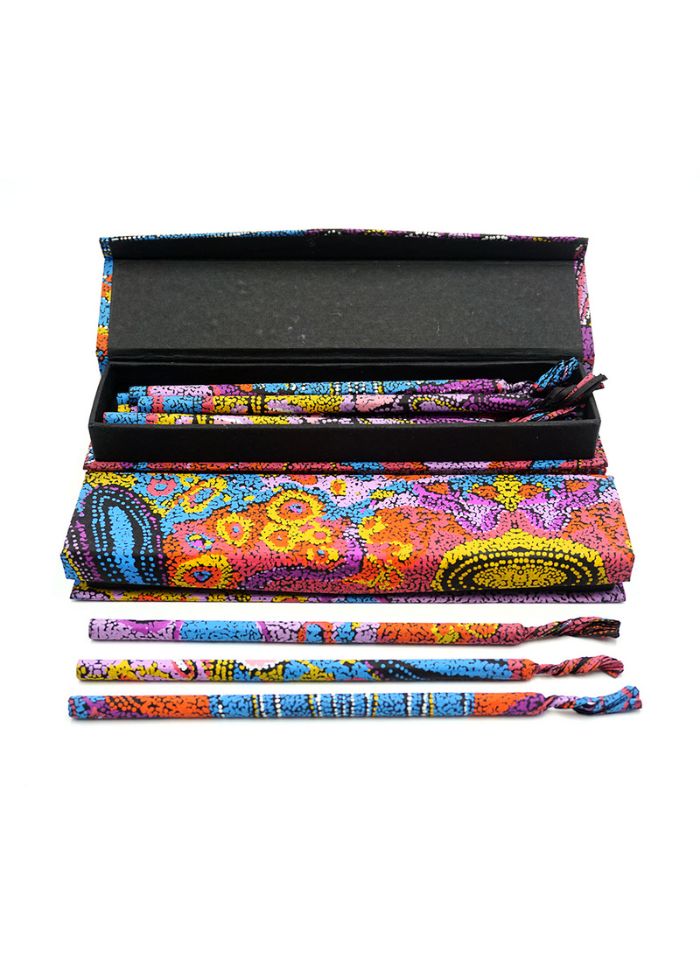 Boxed Pencils - Andrea Mimpitja Adamson
A unique gift box of ten pencils made with handmade paper from Better World Arts.  The paper's design is based on artwork by Andrea Mimpitja Adamson. 
These paper products are hand made in Jaipur (North India) from a SEDEX certified supplier. They are made using recycled cotton scraps from the garment industry. No wood or toxic chemicals are used in their production. 
The Artist -
Andrea Adamson  was born at Amata, which is located on the APY Lands of South Australia, 480km to the south west of Alice Springs in 1973 to Tony and Kukika Adamson. Andrea passed away suddenly in 2019 at the tender age of 46.
Andrea's painting tells us about the seven sisters and their travels through the country as they are pursued by Wati (Man) Nyiru. Nyiru fell in love with the sisters, and even though they were of the wrong skin name, he was desperate to make them his. As the women fled from Wati Nyiru they created the country and landscape around Andrea's home, Mala.
All Better World Arts products return royalties to the artists and their communities.