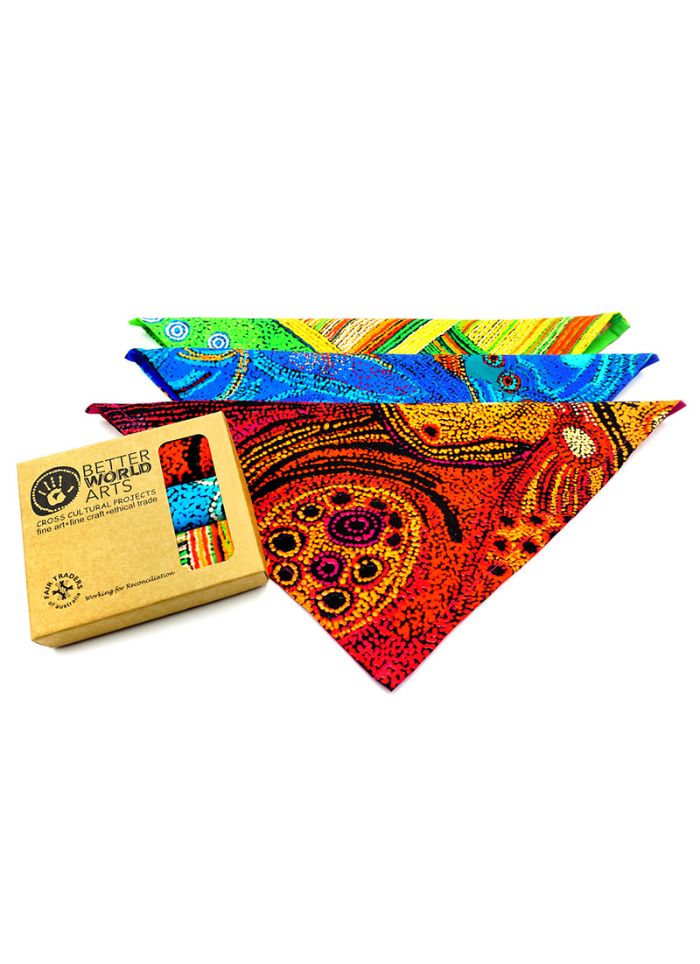 Boxed Set of 3 Handkerchiefs - Julie Woods
Three different printed cotton handkerchiefs are packaged in this environmentally friendly, plastic free, cardboard pack.  The designs are based on paintings by Andrea Mimpitja Adamson and the printed cotton handkerchiefs are made in India for Better World Arts. Handkerchief size is 30 x 30cm.
The Artist -
Julie Renita Woods paints with Papulankutja Artists (Blackstone). She was born at Irruntju (Wingellina), Western Australia, but grew up across the border in South Australia at Kanpi where her parents moved when she was young. When she was old enough she started school at Yirra College in Alice Springs – a boarding school for Aboriginal students who live in remote communities. 
Her mother was Elaine Woods, a well-known artist with Papulankutja Artists and her maternal grandmother, Maringka Baker, a highly regarded painter with Tjungu Palya art centre based at Nyapri, South Australia. Kanpi and Nyapri are short distance from each other in the APY Lands.
As Julie was taught to paint by her grandmother, she inherited her grandmother's story from Irruntju regarding a scared place associated with two sisters travelling as well as Ku Ala – a sacred women's place south of Irruntju.  Julie's distinctive style can be attributed to artists who painted st Tjungu Palya.
 All Better World Arts products return royalties to the artists and their communities.