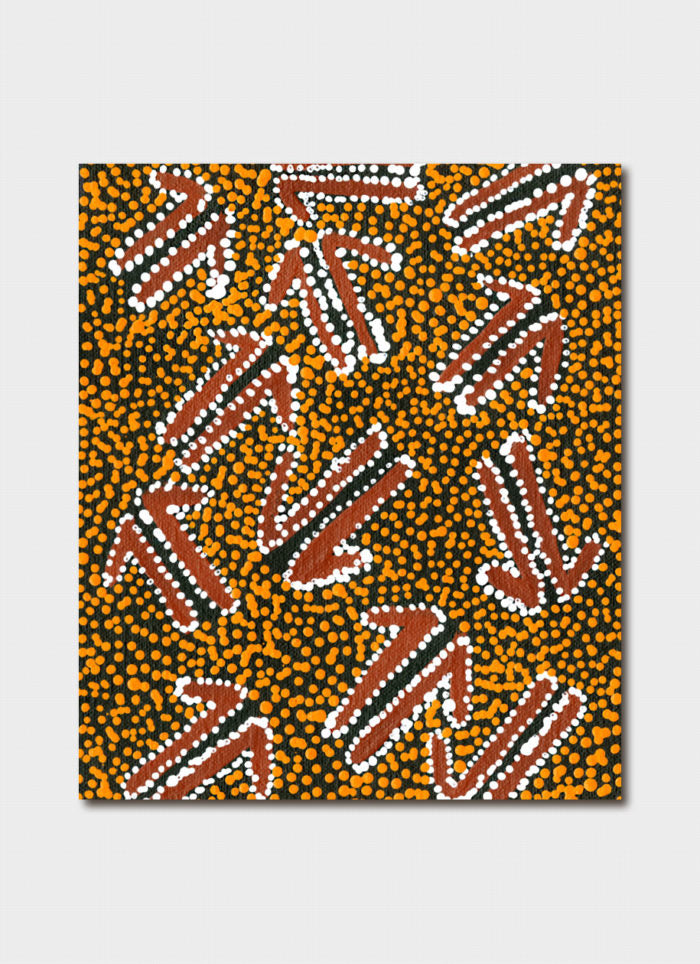 Maruku Arts - Francine Kulitja (2591)
Large art card, 128 x 155mm, blank inside and comes with a white envelope. 
The art -
Maruku Arts is owned and operated by Anangu (Aboriginal people from the Western Desert and Central Desert regions of Australia). The name Maruku literally means "belonging to black" and it has operated for over 30 years as a non-for-profit art and craft corporation.  Approximately 900 Anangu artists make up the collective that is Maruku. Its purpose is to keep culture strong and alive, for future generations of artists and make culture accessible in an authentic way to those seeking a more in-depth understanding. It also provides an important form of income to artists living in remote communities across Anangu lands.
The painting shown on this card is by Francine Kulitja (born 1980) the eldest daughter of well known artist Rene Kulitja and granddaughter of renowned wood carvers and Maruku founders, the late Topsy Tjulyata and Walter Pukutiwara. She grew up in Kaltukatjara (Docker River) in the far south west corner of the Northern Territory. She also spends time in the Mutitjulu Community in the Uluru-Kata Tjuta National Park, where her family has always been strongly involved in traditional land management, tourism and the arts. Francine paints the Tjukurpa or Creation Stories she has inherited through her mother, her grandmother and her grandfather.