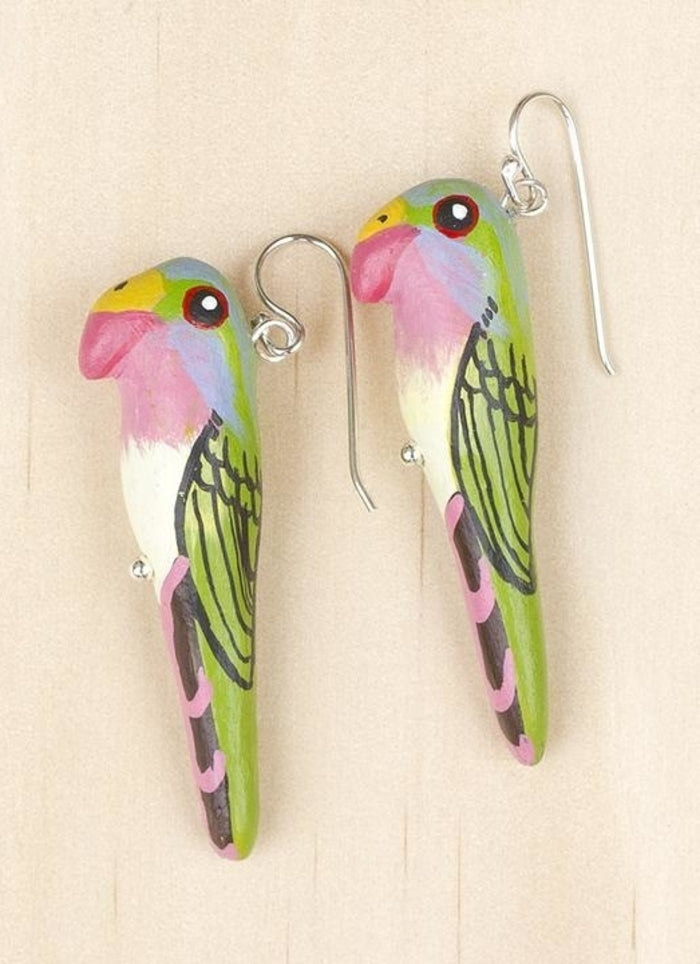 Songbird Earrings - Princess Parrot
At Paper Parrot we love all things that celebrate Australian bird life and these pretty handcrafted Princess Parrot earrings do just that! 
Total earring drop approx 60mm (the bird is approx 50mm from tail to beak)
Sterling silver earring hooks
Presented with a story card and fabric gift pouch
Each bird is individually handcrafted from locally sourced clay and then intricately hand painted.
Because of the completely hand-made nature of these items there will always be some variation between products, adding to their charm.

Ethically produced by a group of artisans based in Chiang Rai, Thailand.
About -
The distinctive pink throated Princess Parrot is an iconic desert species which occurs across Western Australia, the Northern Territory and South Australia. It is highly nomadic and experiences population fluctuations, likely in response to changes in environmental conditions in its arid habitat. The Princess Parrot is listed nationally Vulnerable (under the EPBC Act) and due to its elusive nature and the remote areas it occupies, very little is known about its ecology and potential threats, making it difficult to develop effective management actions to improve its status.
Songbird is a crafts-based social enterprise established to raise awareness and support the conservation of Australia's threatened bird species and their native habitats, whilst creating sustainable and ethical job opportunities for Songbird's artisan makers.